Continuing on with my last post - I visited the new
How Do You Roll? Maki Sushi Bar
in the warehouse district a few hours after they officially opened! I was not disappointed.
A review:
I am always in awe of the edgy, mod look of newer establishments. With just splashes of the right colors, new shapes, and good lighting, any restaurant can look good. HDYR is no exception; it's design is flawless. The customer service was A+, the dudes were very nice to us (and even recognized my friend, a once semi-regular at the Arboretum location). The price gets an A++ because for 7 dollars, you get a large roll that is 10 pieces; it's like getting two rolls! The taste is also great, you wouldn't think you are eating budget sushi -- I'd say it's as good as the rolls at pricier establishments (but I'm no food snob).
Check out photos from my eating experience:

This is the sushi bar, Chipotle style. Look at all the meat and veggie choices. There's my roll being made!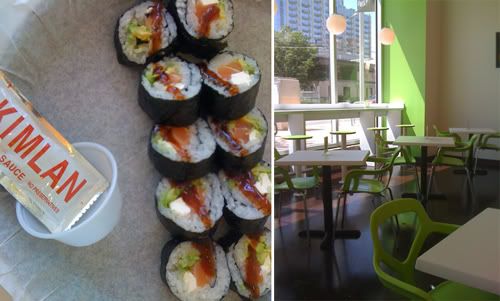 My finished roll, essentially a Philly roll with Unagi (eel) sauce on it. Check out that ambiance.
Located at:
454 W. 2nd St. Austin 78701

Sun-Thurs open 11am - 9pm
Fri-Sat open 11am - 10pm
Go now if you haven't tried it yet!