Actually, it's Darla Teagarden.
I heard about
Darla's photography
, when a very lovely lady, with porcelain-like skin and a doll face, came into my work a couple of weeks ago. Her name was
Evelynn
; I immediately asked if she modeled, because with a mug like that -- Anyway, she said she wasn't a model, but that she modeled for one photographer, and that was how I got introduced to
Darla Teagarden
, mother and photographer. I was awestruck at once. Her work can be likened to few others, and she definitely stands out of the local photographer crowd with her ethereal sceneries and macabre subjects. There is something a little twisted about each photo, but in the most enjoyable way.
I was able to score an interview with Darla, to my luck. I still have a million and one questions to ask.
Five Little Lies, model: Evelynn
Why is it Darla's "Tea Garden"?

It's Teagarden, as in the Texan born jazz trombonist, Jack Teagarden. But of course a literal tea garden is a lovely notion !

How did you first get into photography?

In my twenties I did a lot of print modeling in the U.S. and abroad for mostly male photographers. Being on set and around photography gave me a basic love for the process and I always wished there were more females involved. I suppose somewhere in my mind I knew I wanted to contribute someday. The moment came when I devised a high concept idea for myself and my young son, Dal. I knew then I wanted to take everything I'd learned in modeling and theatre arts and apply it to the medium of photography. I want to tell stories this way.

Your final product seems to have a lot of design work in it. Is design your true forte?

While I do love styling and conceptualizing my main motivation is narrative through photography.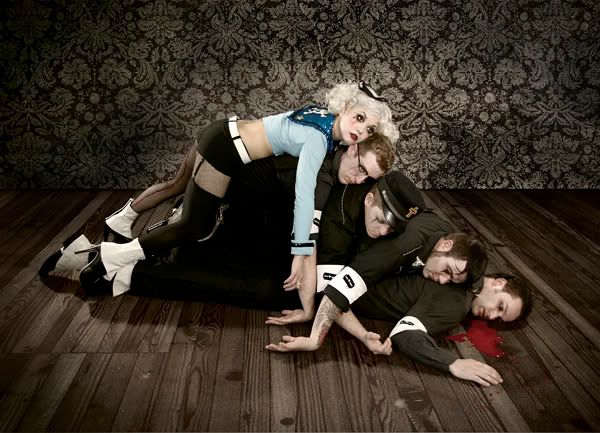 Where do you draw inspiration from?

At the core I suppose it's literature and vintage motifs. The theatre projects in which I was involved was based on both of those things, so It's what I'm drawn to. Also, I have a near obsession for nostalgic souvenir portraits people take when on vacation, those static but intriguing civil war era tin types, and photo booth photos; So I hope to convey some of that mimicking of reality.

What do you want your art to convey?

I know I don't want to convey utter reality. My sets are ephemeral, slightly surreal- I keep 95% of my sets personally hand made in my garage, personally staged in the confines of my bedroom. I often create wearable garments and props out of paper materials and do most of my own wigs/hair and make-up. I want a handmade quality much like a short play or mini opera.

Of course I admire documentary portrait style of photography, but I want my audience to have a respite from that when they see an image of mine. Even my straight portraits will have a specific atmosphere. Having said that, perhaps the darker or more abstract concepts mirror real problems or joys.

All of your models seem to have this je ne sais quoi. What do you look for in a model?

I look for beauty, of course, but i'm not interested in overtly contrived looks like pin ups and purely gothic, tattooed or even commercial looks for my photos, I want a touch of everything, nothing directly on the nose. I don't usually get my models from agencies, but from people I meet on the street or other artists I know. Things are changing now that i'm better known. Models approach me for work, which is great, but it is rare I use them for personal projects. Maybe that is changing, I'm not sure.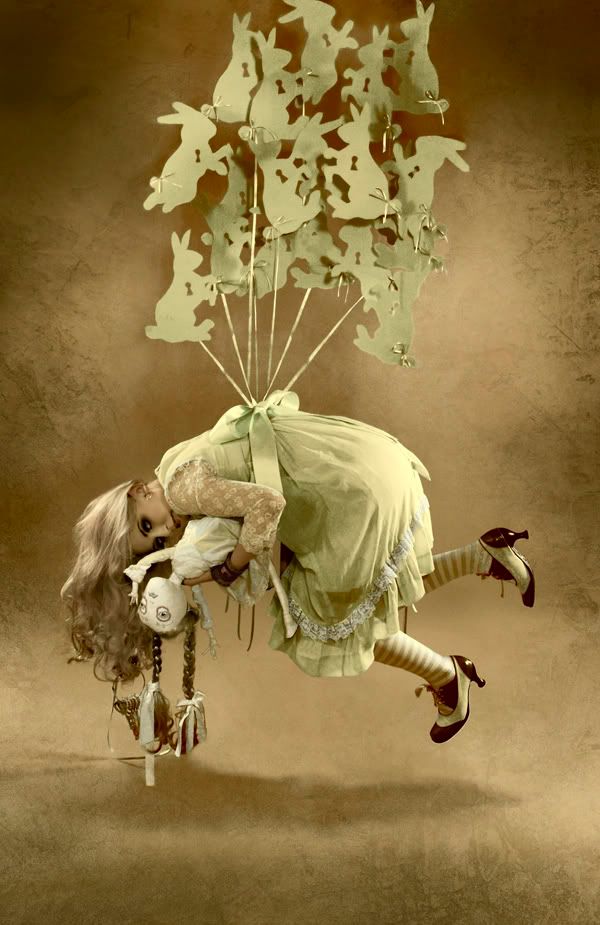 Are there any concepts you're brewing for the future?
I'm a manic percolator.. always thinking of whats next. I'd like to do some mixed media showings and some traveling. I think the next thing, the blank page, for any artist is both the knot in our stomachs and the pure joy of challenge and growth. I do have a super fun group show of women underground artists (and some better known) in New Orleans for Halloween... I keep my events updated on my official site, so stay tuned!
All images (c) Darla Teagarden. Check out more of Darla's work at
www.darlateagarden.com
Darla's work will be featured in a gallery, among other artists, in New Orleans October. If I have any Louisiana readers or Austin readers traveling, you should be sure to check out the spectacle.