So braggy of a blog post,
but
I got 2nd in Best Local Blogger in Rare's Rarest of Them All issue!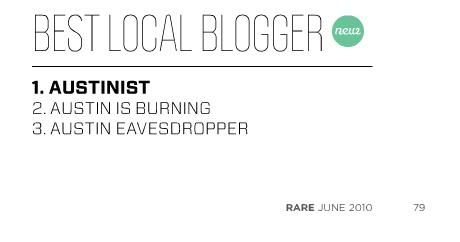 Every June,
Rare Magazine
does a poll, locally, of all the best Austin digs, including restaurants, retail stores, people, etc. This year, I was named 2nd in the
Best Local Blogger
poll, which is insane. I rank among
Austinist
and
Austin Eavesdropper
? I'm surprised. I didn't even ask anybody to vote for me. Thanks to any reader who did, I am so glad you like my blog! I am honored to have even been voted for once!
I honestly didn't know this blog was popular enough to get votes. My head is growing by the second.
P.S. Congrats to all the other winners of the polls, I was happy to see some favorites like Stag, Uchi, Buy Definition, Rio Rita, Shangri La and Barbarella listed.