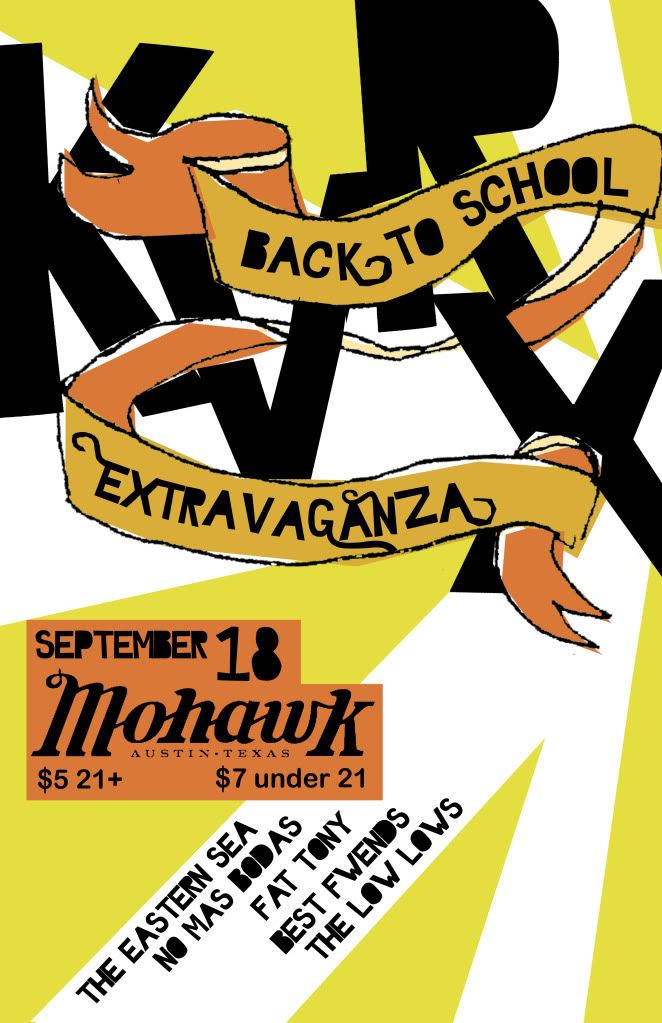 Another giveaway!
The
KVRX
ticket fairy has returned to bring you another opportunity to attend another KVRX sponsored show / party for free. This time, it is the KVRX "Back to School Extravaganza" this Friday, Sept 18, featuring
Best Fwends
,
The Eastern Sea
,
No Mas Bodas
,
Fat Tony
and
The Low Lows
. That is a pretty special line-up, guaranteed to be good.
This time, the show is at Mohawk. Tickets are $5 21+ and $7 under. For the lucky winner - free. Again, I am giving out 2 tickets to one person, because nobody really likes to go to parties solo.
How to enter:
1.
Peruse my blog and think of ways you think I could improve it to your liking -- nothing blatantly rude, please. (Or if you just can't think of anything - yeah, right - just don't put anything.)
2.
E-mail your suggestion to
austinisburning@gmail.com
3.
Include your
full name
and
contact information
(primary e-mail or phone number) so I can contact you if you win.
I will be keeping this post on the top of my page so that it is more visible. This is not to say I won't be updating; I will just be refreshing the date of this post. Keep checking back here to see the results. I will post the winner on Thursday the 17th.
Thank you and enjoy your week.