I guess nobody had an answer to my previous question. Blogging is so weird, I feel like I am constantly addressing an invisible audience. I can imagine that maybe there are 2-3 readers out there that I could be telling all these things to, or I can just talk to myself. I'm content with either.
I'm pretty lackluster at the moment -- though some would probably argue I always am -- and it doesn't help that tonight (Thursday) was kind of just whatever. I'll admit to not checking out downtown, but not every night needs to be spent downtown. Miguel said the opening night of Malverde (bad green?) was pretty great. That's some new bar on 2nd and Guadalupe, which I can't really attest to yet. Hmm... let's see what's up for this weekend. Here are the only suggestions I can make.

Friday:
Let's assume Creeksizzle is just Creekside in Snoop Dogg terminology.

Saturday: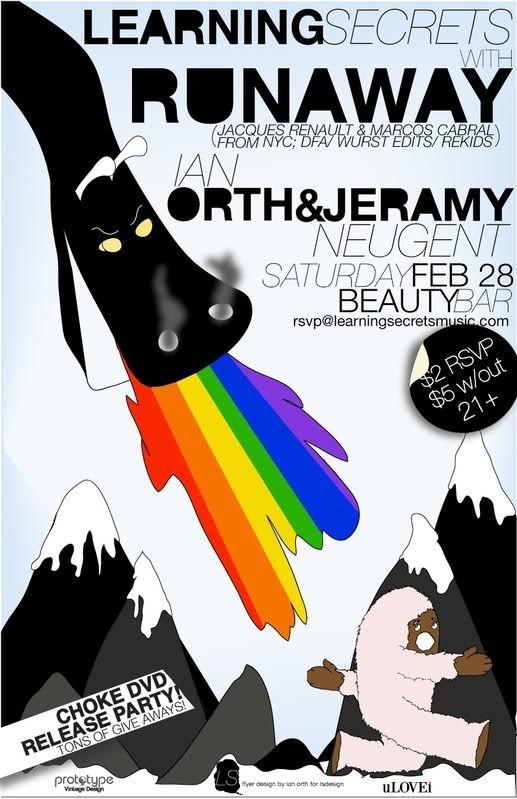 If my memory serves me correctly, Learning Secrets parties will always fill up by about 11:45 p.m. or so, so get there early if possible. I will probably/definitely be attending this baby, because I'm a big LS fan and who has ever had a bad time at one of these? RSVP by e-mailing the provided address.
If you refuse to go to Beauty Bar for any reason, you can always go to the reclaimed Black and Tan, which is now under the management of the very able-handed bartender Ryan (whose birthday was recently celebrated at the past Wild Life @ Parish). So, if you were ever once a Black and Tan goer, stop by and take a shot or something at the Fidget Disco party.
Was that too much text and not enough pretty pictures? Here's one just for you.
Just me and my girlfriend at that last Parish party. Rest are on Trevoray's
web site
but I'm sure you knew that.
LOVE,
TD