So many things are getting canceled this weekend, but I'm pretty positive these parties are all still going to happen for sure --
FRIDAY
Never been to the Elysium, but this seems like it'd be a lot of fun.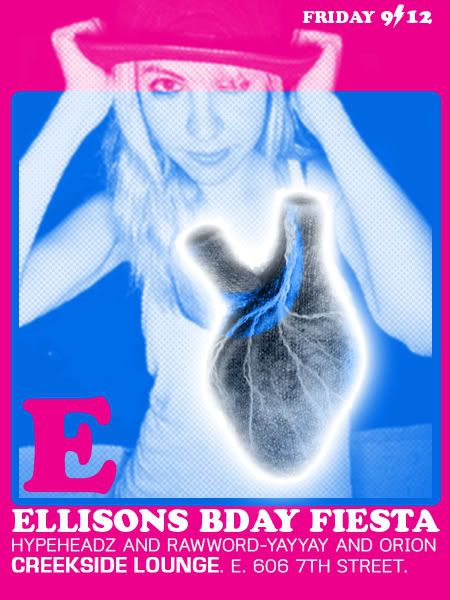 I don't know this girl, but she's really cute and the party's at Creekside, so it should be fun.
SATURDAY
Afterparty with Famousish.
En Dallas
If you are in/from Dallas, go to this. First of all, free happy meals? Awesome. Keith P, also Awesome. And Hamburger Headaches? Not so awesome, but worth it.
Last night...

was the Heartsrevolution and Midnight Juggernauts free show. I was lucky enough to go, and it was waaaay badass. Anyone who's a genius was there, of course. I mean - it was just the right combination of music, and free, and dancing. The afterparty at Music Gym was also rad. I had never been there before, but it's a really cool location and set up.
Here's that flier, though it's too late to go if you didn't.
To everyone who went to BB last night, :D.
-TD
PS - does anyone have any pictures of me from last night? I just want one because I was wearing my favorite vintage dress and have no pictures of it. Thanks!