Another great installation of
Art Disaster
. I always have tons of fun at these events: great bands, drinks, attractive people. This is a
SXSW
crucial
event -- it pretty much starts of SouthBy with a bang for me. This year, I am sponsoring.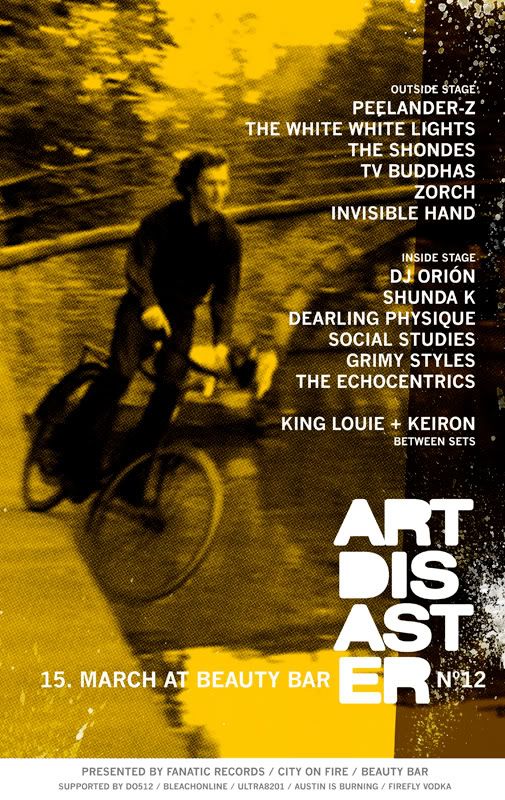 I love that
Peelander-Z
is headlining. Love those crazy dudes.
This is me with a couple of them (and Esti and Patrick) after their End of an Ear in store.
INFO:
Fanatic Records, City On Fire, and Beauty Bar present:
ART DISASTER no.12

March 15th at Beauty Bar
617 E. 7th Street, Austin, TX

Free with RSVP: http://artdisaster.com
Facebook Event Page: http://www.facebook.com/#!/event.php?eid=164512213601241

Outside Stage:
1am - PEELANDER-Z
12am - THE WHITE WHITE LIGHTS
11pm - THE SHONDES
10pm - TV BUDDHAS
9pm - ZORCH
8pm - INVISIBLE HAND
DJ KING LOUIE between bands

Inside Stage:
1am - DJ ORIÓN
12:20am - SHUNDA K
11:30pm - DEARLING PHYSIQUE
10:30pm - SOCIAL STUDIES
9:30pm - GRIMY STYLES
8:30pm - THE ECHOCENTRICS
DJ KEIRON between bands
Early powerhour with free Firefly Sweet Tea Vodka while they last!