This is about to get pretty personal. My blog has not typically been too insightful on my life, but I thought now was a good time to tell a story. (Sorry if I say "I" a lot here, I promise I am not totally egotistical).
So, I literally got 3 visits to this blog Sunday. I suppose that is what happens when you don't update for a few days. Sad. I had a little bit of a pause in my life, and now I am trying to play catch-up.

Anyway, I deleted that previous post of mine, because it almost sounded accusatory. Sorry about that. I just meant to update, and obviously send out a cautionary message. I felt it sounded a little rude, so I took it down. I thought I would update any interested parties on the status of my life as of late, though -- about the accident, mostly.
On late Thursday night / early Friday morning, I was hit by a drunk Ford truck driver on my scooter on Red River St. (around in front of Plush). I was going North, toward home, in the left lane, while the truck was going South. He decided to take an unprotected left turn as I was passing through the intersection and our vehicles collided. Well, his vehicle and my body rather, considering I was on scooter. I don't know if he just didn't see me, though my headlight was on, or if he was just too drunk to register the situation, but it happened either way.
Some very kind civilians, I suppose people who had just left the bars / clubs after 2 AM, saw and rushed to my help. They carried me to the sidewalk, brought my scooter over to the sidewalk, and called 9-1-1. I was conscious the entire time. The truck driver even came out and talked to me for a short bit. He asked me how I got into the accident (without telling me it was him who I got into the accident with). I explained the situation, about how I was going straight through a green light, and he proceeded to tell me he also had a green light. I was shocked that the driver was trying to take the blame off of himself, so I just asked if it was him who hit me. He said yes, and walked off.
The Hospital
I was taken to the ER in an ambulance. I was told by the police there that the driver had admitted to having 12 pints of Guinness, was driving drunk and was arrested and put in jail that night. Luckily, he had insurance.
The doctors in the ER ran some X-rays, found that there was nothing terribly wrong with me. My knee was bleeding, but it was fine. My shoulder hurt, and some joint in my clavicle had apparently been slightly dislocated. This, the doctor, told me often heals itself and wouldn't be a big deal. I was released a little before 4 AM, feeling battered and sore but pretty lucky to be alive.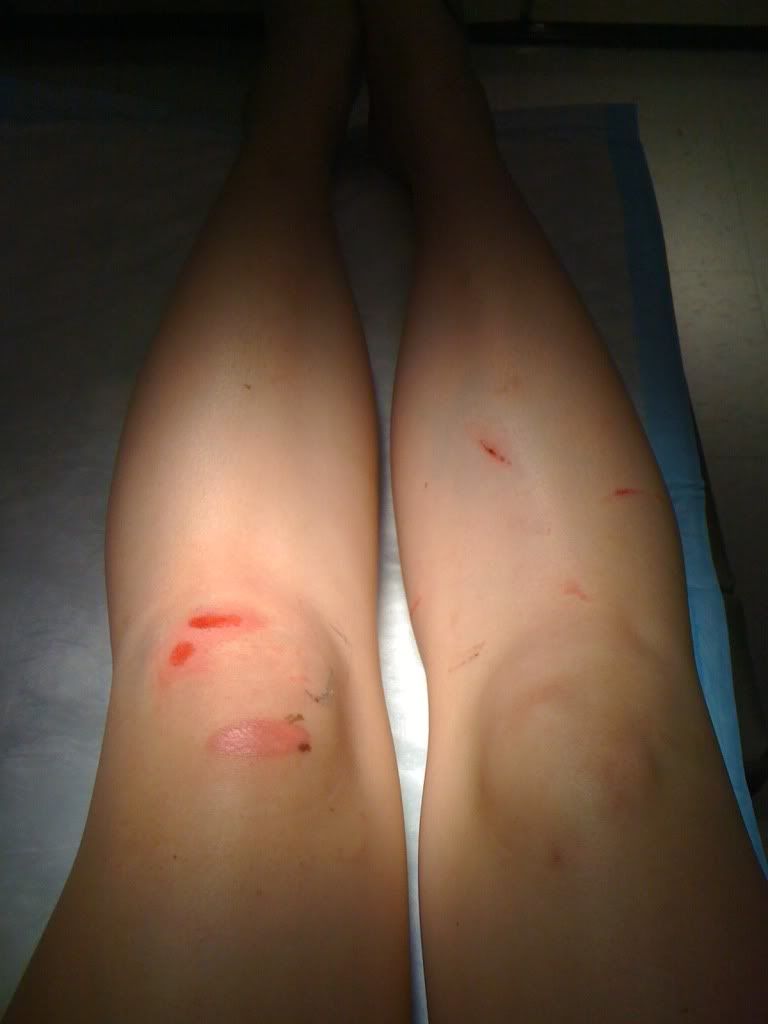 Sad little legs.
However, the next day, I noticed that every time I coughed or laughed, I had a shooting pain in my chest. My sternum was incredibly sore, but I just attributed that to being hit in the chest by my handlebars. After attending class, I went to the university doctor and had X-rays taken of my chest. They let me go and I went about my day, taking my friend out to a birthday dinner and everything, when the pain became noticeably worse. I could barely laugh or cough anymore. When I spoke, I started hearing a muffled voice instead. I felt like there was something like air in my throat, keeping me from talking normally. I went to the ER at Brackenridge, again, around 7:30 PM.
The UT doctor had left a message saying I had pneumo media stinum, meaning an air leak into the middle of my chest between my lungs and around my heart, which shouldn't be there. They took more X-rays and could not determine the cause. I had a CT scan, which also didn't answer any questions, so I had to stay the night, so that they could try to determine the cause or check for improvements in the morning. My little sister spent the night with me, and two of my best friends stayed with me until about 2 in the morning (cutting one of their Birthday celebrations short, sadly).
By morning, I apparently did not show much improvement, so they talked about keeping me another night, which I dreaded obviously. They also talked about putting a camera down my throat and into my chest, which would determine the cause of the air leak.
I waited and waited (starving, cause I wasn't allowed to eat) for the pulmonologist, lung specialist, to come visit me, but he was stuck in the ICU helping people with much worse issues. I, of course, do not begrudge him or the hospital that, I was just so, so hungry. He ended up coming around 6 PM and told them to let me eat, and that the procedure would be unnecessary. I should be able to heal in time on my own - if not, I would go back and visit. I was released around 7 PM Saturday night. My mom and older sister had cut their St. Louis vacation short to be with me, which was really nice.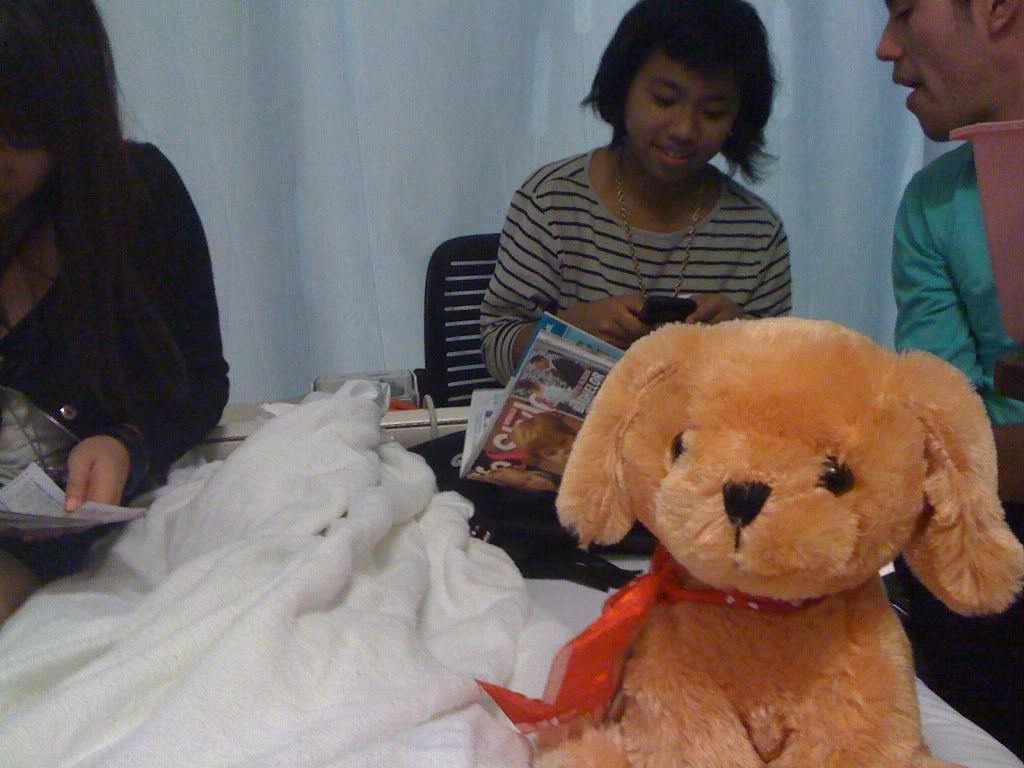 Sister, friends, new friend Theo
I am now back home and feeling better and better with time. Today was better than yesterday, and hopefully tomorrow will be better than today.
The only sad thing is that I thought since I am always a safe driver, I wouldn't have gotten in an accident on my scooter. I suppose I can't control other people's actions. I was wearing my helmet, luckily, and didn't receive any trauma to my head or face. The nurse & pulmonologist told me that I was only one of two people who did wear a helmet who had been in a motorcycle/scooter accident this year. I do not need to stress how important it is to wear helmet if you ride a moped, scooter, motorcycle or bike. So important.
I am so thankful for everybody who visited me, all of the gifts and well-wishes I received, the doctors and nurses who helped me out at Brackenridge and the random civilians to helped me the night of. Michelle told me in the hospital about how times like this are good for reevaluating yourself and your life, and I wholeheartedly agree. The situation definitely sucked, or sucks rather, but there is hopefully something positive to be taken out of it. I know that people in my life really care about me. I know that random strangers can be really great. I know that shit can really hit the fan, and that I can only really do my best to make my life as healthy (and long) as possible. Hopefully now also anybody who reads this might be a little more cautious with drinking and driving. Especially when you are well over twice the legal limit (which is .08).
Thanks to anybody who took the time to read this. Love all of you readers. Really.

(Update) I was wrong about the three visitors Sunday. I accidentally deleted my Analytics coding, so I hopefully got a few more visitors than just three. I'm silly.