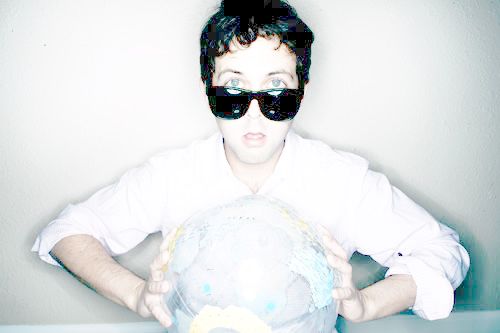 Photos by Annie Ray
Neiliyo + Springtime + Games
In anticipation of Neil Petty's, AKA
Neiliyo
's, new EP
Game Night
, I have conducted an
Austin is Burning
exclusive
interview with the man. He has also written and recorded a song for the blog -- it's a very intimate recording of a jam session in home, just for us.
His new game-themed album is releasing this Saturday night at his EP Release Party at Club Deville, with supporting acts Fizzy Dino Pop & Team Fabrication DJs. In order to get y'all pumped for this event, I have for you "Springtime," an AIB-exclusive song from Neiliyo, a demo of "Hopscotch" from his EP, and he's answered a few questions for me about the new EP.
Enjoy!
AIB: Somebody on do512 described your music as "yacht rock meets coked out Mick Jagger." Do you think that encompasses your real life personality, too?
Neiliyo:
Eh...yes and no. I definitely spend more time creating new beats and songs than I do yachting and living like Jagger. But I also am probably the most hyperactive out of all of my friends. I dunno, I have lots of energy for some reason.
What is your favorite song on this upcoming EP of yours?
Hopscotch. It was one of those, "how did this end up like that" songs. The beat kind of has this "jumping" rhythm.
Hopscotch by neiliyo
You say that this upcoming EP features songs about games like hopscotch and spin-the-bottle? What's your favorite game?
My favorite game from the past didn't actually make the EP because it's kind of complex. It's called M.A.S.H. While I can't really remember the fine details of how to play, I know you drew this vortex-like pattern and counted the gaps between the circles. Then you predicted whether you would live in a house, mansion, shack or apartment, and what you'd drive. I thought it was a great one to play with the girls - very aspiring.
Name three songs that would be on your desert island soundtrack?
Dam Funk - I Gots 2 Be Done Wit' You
Washed Out - Belong
Kleeer - Intimate Connection
Assuming your songs reflect your real life: From songs like "Kinda Pissed" to "I Can't Date" to "Ain't Over" -- how do your songs with romantic themes reflect your love life?
I guess you could say they're more induced by my past experiences. I think most of us can recall about 90% of the people we went out on dates with or really liked, so I like to pick the little feelings from those and write about them. Not necessarily the person it had to do with, but more like the situations and the feelings. I think people relate to that more.
Who is your favorite local band/DJ/musician?
YellowFever is pretty awesome to me right now.
What do you want to see happen in 2010?
I want to see more ideas coming out of Austin. It's a good time for this city right now, it just depends on what we do with it.
What do you want to see happen at your EP release party?
I want to see some winners, dancers, gamers, geeks and peeps get up on the good foot.
Last words to your fans:
Forget about the stage! We're all friends and we're a team.
See you there.