TD sounds like some sort of disease -- maybe because of TB.
Anyhow. Yes, I understand it is approximately 4 a.m. and anybody who realizes the time and the day will think that I am cracked out typing this up and rambling, but I suppose anybody who knows me well enough will know that I just just a bored, strange insomniac. I decided since I am just sitting here alone in my room on a Saturday night (slash) Sunday morning, I am going to sort through this past week and weekend. Why? It'll amuse me for a some minutes before I pass out with this Lunchables cracker stacker on my bed. Also, this weekend I've met a couple of people who told me they actually enjoy reading my blog and have caught onto some of my strange persona via text. That's nice. Thank you guys.
Did anybody go to the events I listed for Cinco de Mayo? I was kind of sad I didn't at least go by and check it out. However, I had pizza at Jackalope and Shangri La and that was relaxing and nice.
I was upset to have missed out on margaritas that day. That was rectified Thursday though, at
Red House Pizzeria
, which I have dubbed #1 margaritas (until further notice). And, at $1 off during happy hour, it's unbeatable. Thursday night was good.
Tonight, well Saturday, with
Glass Candy
at The Mohawk was great. The band threw out free shirts, then free CDs, then free LPs. How nice is that? I actually watched the band and danced for the first time in probably far too long. Well, since
Lykke Li
perhaps. I believe this is the CD we had been handed, one from the
Italians Do It Better
label, which I talked about formerly when posting about
Farah
from Dallas. She's on the CD, too!
1. Glass Candy - Rolling Down The Hills
2. Chromatics - Hands In The Dark
3. Indeep - Last Nite A DJ Saved My Life (Mirage Remix)
4. Mirage - Lady Operator
5. Glass Candy - Computer Love
6. Professor Genius - La Grotta
7. Chromatics - Killing Spree
8. Farah - Law Of Life
9. Chromatics - In The City
10. Glass Candy - Miss Broadway
11. Mirage - Lake Of Dreams
12. Farah - Dancing Girls
13. Glass Candy - The Chameleon
14. Professor Genius - Pegaso
And these were the shirts they were throwing out: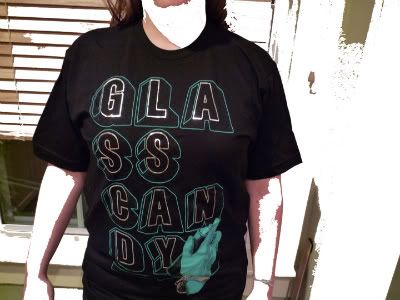 All of this can also be purchased at the
Italians Do It Better

e-store
.