School is returning, along with that more restrictive schedule. Therefore, this weekend ought to be a blowout weekend. A substantial amount of events are happening. Let's see.
FRIDAY:
- You know I support
Coldtowne Theater
events.
Terp 2 It
is
Chris Trew
's "nerdcore rap" (
Party Ends
).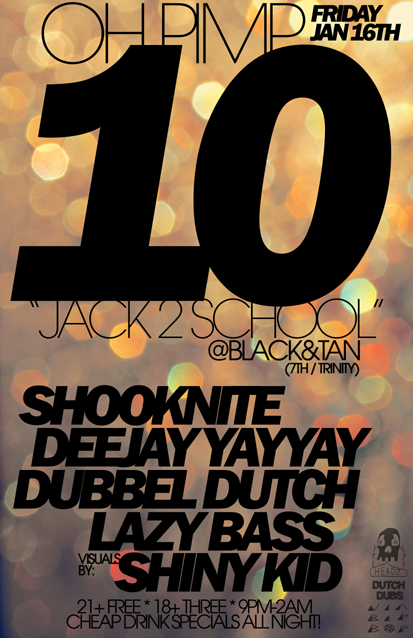 - Same DJs, same weekly coming back, it looks like.
I missed out on the Black and White party a week ago, but here's another opportunity to party in one of Austin's greatest lofts. James Allen is putting on a neon dance party at the 601 Brushy loft. To see photos from his last party, go to
Flampy.net
.

SATURDAY:
-
The Party
's DJ Select comes to Austin from Dallas.
- Alright, this one in particular I am pushing. First of all, I think it's the best option for Saturday. Second of all, it's
Cobra Krames
who I caught last time at the Scion party at Beauty Bar, and he's a big deal. Also, the only way to get into the afterparty (and everybody loves a good afterparty) at the Music Gym with special guest Plus Move*. Third of all, it's a
Famousish
event and everybody knows they throw some of the best parties in the city.
ESPECIALLY:
The new
Corey Micheal Salon
on 5th and San Jacinto (downtown) is finally having their grand opening party. There's going to be free alcohol and it's before any other events really start, so be there. It's worth it.
And if you want to actually get your hair done, here's a little way to get a discount. Just mention the ad.
That's it. I'll probably reupdate to reiterate everything important, because of the clutter that this post appears to be. See you this weekend,
Tiffany Diane