Yelle, last night, was phenomenal! The opening acts were pretty great, too, but of course nothing compares to Yelle's first performance in Austin, Texas and the jazzercizing with Super Sonic Soul Squad. I know I was probably not the only one who pretty much danced non-stop and made a fool of myself (well, maybe not everyone made a fool of themselves).
Almost everybody was there. You may have spotted Rachel of
Austin Style Watch
in her fierce bodysuit, or Tolly of
That Austin Girl
(who I had the pleasure of meeting) in her turquoise skirt,
Annie Ray
just hanging out without the camera or Fernando of
The Famousish
changing shirts, David aka
Richard.Gear
or - of course -
OutWithMe
Mitchell snapping a bunch of pictures of Yelle.
At the end, Yelle just hung around her merch booth and met people, signed merchandise, took pictures. She was really sweet and seemed incredibly down to earth. With the help of my friend Amber, we got a photograph taken with her!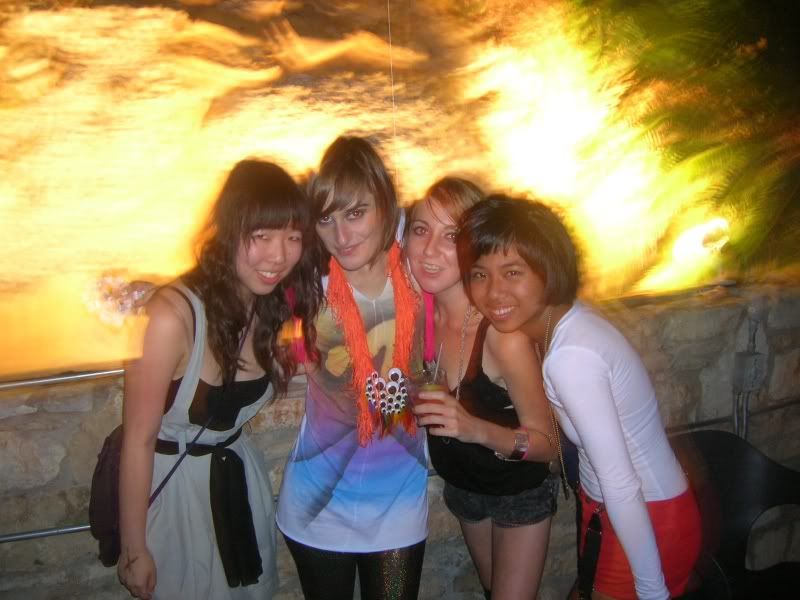 [L to R: Me, Yelle, Amber aka Amelie, Kristine]
It looks like the apocalypse is happening behind us but we are all enjoying ourselves. That is why I like this picture. And isn't that KIND OF true to life anyways? (Not to be a complete cynic or anything)
I also got her autograph! I'll probably photograph
that
later. I'm still recuperating from the night.
-Tiffany
I leave you with this video of Fatal Bazooka feat. Yelle:
Parle à ma main. She's that cute!